Firstly, I've been very lucky to be part of an anthology of short stories,
Talking to Strangers
, all written by the talented Fehed Said. He was also kind enough to ask me to do the artwork for the cover.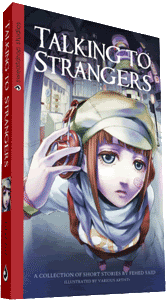 A girl trapped in a box, a boy chained to a rock and a friendship between a child and a flower. These are just a few of the themes that storyteller Fehed Said explores in this collection. Joining Fehed Said, the acclaimed writer behind SLG's Clarence Principle, and Sonia Leong, the award winning artist behind SMH's Romeo & Juliet is a sterling lineup of the UK's best new talent. Featuring artwork from Nana Li, Wing Yun Man, Chloe Citrine and Faye Yong.

Due for release on 24th October 2009 at the London MCM Expo and available to buy online from the Sweatdrop Studios website - www.sweatdrop.com/
The full press release and preview pages can be viewed here:
tellnolies.com/2009/10/05/new-…

Secondly, I'll be doing another
manga portrait day
along with the amazing Faye Yong and Laura Watton. It will be on Sunday the
18th of October, 12 noon - 7 pm
at
Tokyotoys
Trocadeo, London. Anyone is most welcome to come along!

---

Art blog

Twitter

Upcoming events